Cast & Crew: Vitamin C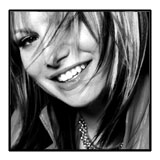 In less than 14 months, Vitamin C has gone from pop's 'it girl' to a pop culture dynamo, conquering radio, video, fashion mags, movies, and even America's teen prom circuit (with her chart topping school anthem "Graduation"), all thanks to her self titled platinum-plus debut.
Now, busy putting the finishing touches on her much anticipated sophomore effort, Vitamin C has been discovered in Hollywood circles, as well. The singer will soon be coming to a theater near you in both Wes Craven Presents: Dracula 2000 and the Ben Foster/Kirsten Dunst flick, Get Over It. "It's all been an incredible experience," says Vitamin C. "I feel good that I've been able to accomplish a lot of things that I originally set out to do."
Not the least of those accomplishments were three smash singles from her debut disk, the optimistic "Smile," the sexy "Me, Myself and I," and the aforementioned "Graduation (Friends Forever)" which became the pop anthem of the year. It even got a little freaky along the way, with Vitamin C being honored with a lipstick named after her (Tommy Hilfiger's exclusive Vitamin C shade) and a Mattel doll created in her image. She also peppered the year with a slew of eye-popping TV appearances, including The Tonight Show, The Teen Choice Awards, The Rosie O' Donnell Show, and The Billboard Music Awards, as well as landing the top right hand square on Hollywood Squares. And Vitamin C really reached the apogee of the pop culture radar screen when she was the subject of a question on the hit TV show Who Wants To Be A Millionaire.
The question now? What does a pop diva with a seemingly endless amount of energy do for an encore? If you're Vitamin C, you keep scratching. Just sample the first single from the new album, appropriately titled "The Itch," which finds the cagey vocalist in a provocative mood, dishing over much more sinewy beats as she conjures up the cleverest of 'come-on's,' penned by herself, Jim Harry (Kylie Minogue) and renowned writer Billy Steinberg, who wrote Madonna's "Like A Virgin," among other pop standards.
"I really thought about where I wanted to go from here on," she says confidently. "I wanted to really challenge myself with this record. Being a fan myself, I can't wait for an artist's follow up record, just to see how they are going to surprise me - how they're going to grow."
And growth seems to be the mantra on the new effort, according to A&R exec Josh Deutsch, who helped oversee her debut effort and helms a couple of cuts on the new one. "I think this record is more charged all the way around," says Josh. "Lyrically it's more challenging, and I think it's musically more dangerous - a little more risk-taking going on. Vitamin C has an incredible ability to go in different directions and still be true to herself." Josh also points out that Vitamin C had quite a pool of producers and writers eager to work with her this time, including co-writer Jim Harry, on "The Itch." "It came about on one of those hot summer days in LA when we were kind of feeling the itch," laughs Vitamin C. "But the song has multiple meanings - everything from when you get that itch in relationships, to when you just want to do something to get out of a rut."
Other collaborators on the album include Billy Mann (Jennifer Lopez) & Andy Marvel (Celine Dion, Cover Girls) who co-wrote and produced a Nancy Sinatra-ish gem called "Dangerous Girl," and David Frank and Pam Shane (Christina Aguilera) who co-wrote "Real Life" with Frank producing. One of the more adventurous tracks is the edgy "Busted," which was guided by much sought after producer Bloodshy (Young Americans.) "I wanted to take a few chances," she says. "Luckily, I never have to manufacture inspiration with my music, but it's especially great when you can work with people who have that extra special spark." Vitamin C admits to a complicated recording schedule the past few months, due to her acting roles on top of her writing and singing chores. She reportedly had to literally phone in a vocal from a faraway location for one song.
But she says her acting duties have meshed well with her singing career. In fact, her role in Getting Over Allison is that of a serenading narrator of sorts, similar to the intro of There's Something About Mary. And the video for "The Itch" will also feature the film's stars, Ben Foster and Kirstin Dunst.
When asked about the much more challenging role of Lucy in Wes Craven Presents: Dracula 2000, Vitamin C smiles. "It's a great role. If you know anything about the original Dracula, she's sort of a good girl gone bad. It's fun to play." Any resemblance to the singer/actress now playing her? "Lucy's a curious, open woman. You could probably say she's got 'the itch' too." It seems the 'it' girl has become 'The Itch' girl.
STARRING:

Dom DeLuise
Deborah Gibson
Mo Gaffney
Kelly Bishop
Suzanne Voltaire
Joey Scherr
Martin Guigui
Les Shenkel
Vinni Vella
Vinny DeToma

VT Congressman:
Bernie Sanders

Vitamin C
Jon Fishman*
*from Phish

Director/
Screenwriter
Martin Guigui

Producer
Bill Henne

Executive Producers
Chris Matonti
J D Matonti
Julia Coppola
Jack Honig

Exec. Post
Production Producer:
Robin Littlefield

Cinematographer
Massimo Zeri
Music Supervisor
Charlie Midnight
Post Production
Supervisor
Steve Bartlett