Cast & Crew: Jon Fishman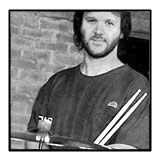 GINGER "THE DRUMMER"
Founder & Drummer
of the band PHISH.
Phantastic Phish:
This is the part about the craziest of them all, Jon Fishman. He drums, he runs (or should I say streaks), and he plays the appliances like no one else. He is the most willing player of them all, going out all the way, and never turning back if it seems too crazy. Playing naked, or in a tunic with Cheerios on it, has not stopped him so far, and I bet it will not stop him until he does not play in the band anymore. I personally like his antics, because he is crazy. I am all cool with crazy people. I hope he turns out for the good, because as of right now, he is leading a very good life as a band artist, and as the icon for common insanity (that's a good thing).
Jon Fishman was born in Philadelphia, Pennsylvania on February 19, 1965. He was adopted at birth, and thus grew up in Syracuse, New York. His mother was Mimi Fishman, and his father was Len Fishman. Jon's mother has fought against the illness glaucoma, hosting auditions relating to Phish for the cause of helping glaucoma's victims. Jon's father is an orthodontist, and also sculpts on his spare time.
As for school, Jon went to Moses Dewitt H.S. in Syracuse until he graduated in 1983. After H.S., Jon went to UVM in the following fall for a year. He then left with Trey for Goddard College, where he ended up writing his thesis on "A Self-Teaching Guide to Drumming in Retrospect."

Jon was one of the original members, being there since '83. Yahoo, for him, yet it was more than that. As said before, he is what makes this band great. For most of his life, since five at least, he has played the drums, without a care in the world about any other instrument that made music.
"My parents made me take piano lessons from the lady next door, but I used to say over and over,'I don't want piano lessons, I want drums.' Our plumber gave me a drum set for my seventh birthday, and I immediately quit my piano lessons and began emulating John Bonham in the basement." Here is sure-fire dedication to a passion.
After reading this quote, I realized what kind of devotion and dedication it takes to become successful at what you love. It shows the softer side of Jon, because off the stage, he's a very chill character. His idols were Led Zeppelin and John Bonham. As he continued in this excerpt, he unraveled more about his inspirations: "Led Zeppelin is the reason I play music today, and Bonham was the fire under my seven-year-old ass." These words summarized Jon's life from interest to stardom. Here is where it all began.
STARRING:

Dom DeLuise
Deborah Gibson
Mo Gaffney
Kelly Bishop
Suzanne Voltaire
Joey Scherr
Martin Guigui
Les Shenkel
Vinni Vella
Vinny DeToma

VT Congressman:
Bernie Sanders

Vitamin C
Jon Fishman*
*from Phish

Director/
Screenwriter
Martin Guigui

Producer
Bill Henne

Executive Producers
Chris Matonti
J D Matonti
Julia Coppola
Jack Honig

Exec. Post
Production Producer:
Robin Littlefield

Cinematographer
Massimo Zeri
Music Supervisor
Charlie Midnight
Post Production
Supervisor
Steve Bartlett