About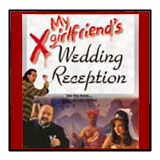 In this slice-of-life quirky comedy of errors, the Benigni-Weinstein wedding reception brings together an array of characters who we've all met before. The pseudo Mafioso's, the Yiddish kivecher's, the misfit band with their loud lousy music, the unfaithful groom, the drunk priest, the horny single men and the band leader who wants his girlfriend back - the only problem is she's the bride, whose only problem is her newly-wed husband slept with the maid of honor the night before.

Described as "Fellini-esque" and "Woody Allenish," "My X-Girlfriend's Wedding Reception" depicts an offbeat circus-like North Shore of Long Island-American wedding party. Cleverly shot, this entire charming low-budge feature takes place at one reception hall, where writer/director/actor Martin Guigui has captured a mosaic of hilarious moments based upon his true-life experiences having played weddings as a musician himself.

Starring Dom DeLuise as Father O'rdeal, Deborah Gibson as the Bride, Mo Gaffney as the Divorcee, Vinnie Vella as the Godfather and Kelly Bishop as the Mother of the Bride. With very special appearances by Roberta Orlandi (Ex-Miss Italy) and pop stars Vitamin "C" and drummer Jon Fishman (of the band Phish).



New Movie
Release!